The Mesoestetic m.pen [PRO] is a medical device with shape similar to a pencil, what makes it easy to operate by the therapist, and at the end of which there is a small surface with microneedles that vibrate lightly and quickly. The microneedling, better known as Dermapen, is a minimally invasive treatment that does not involve bleeding and only causes a cutaneous erythema (redness) variable depending on the patient's reaction that can last from 1 to 24 hours.
In addition to facilitating the entry of active ingredients into the skin by creating microchannels that allow the passage of these, we are causing a microlesion in the skin. This lesion activates a mechanism of restoration by all the dermal tissue that consists of activating the fibroblasts so that they create new collagen and elastin. This way, our skin after this process will be for about 3 weeks regenerating their own cells and components. It is as if we make our skin to exercise to renew and improve. The result will be a healthier and more beautiful skin, totally regenerated.
What is the m.pen [PRO] treatment?
First we apply the specific product needed on the entire face, according to the patient's skin type. Then we use the m.pen [PRO] with greater or lesser vibration according to the 5 speeds available, with slow movements throughout the facial surface simulating a massage. The microneedles, with 6 depths to choose from, open microchannels on the skin through which the active principle that we have previously placed can easily pass, thus achieving a much greater effect than if we applied it topically.
Finally, the skin reacts by regenerating the microchannels that we have opened through the creation of collagen and elastin, recovering completely from the small "lesions" created.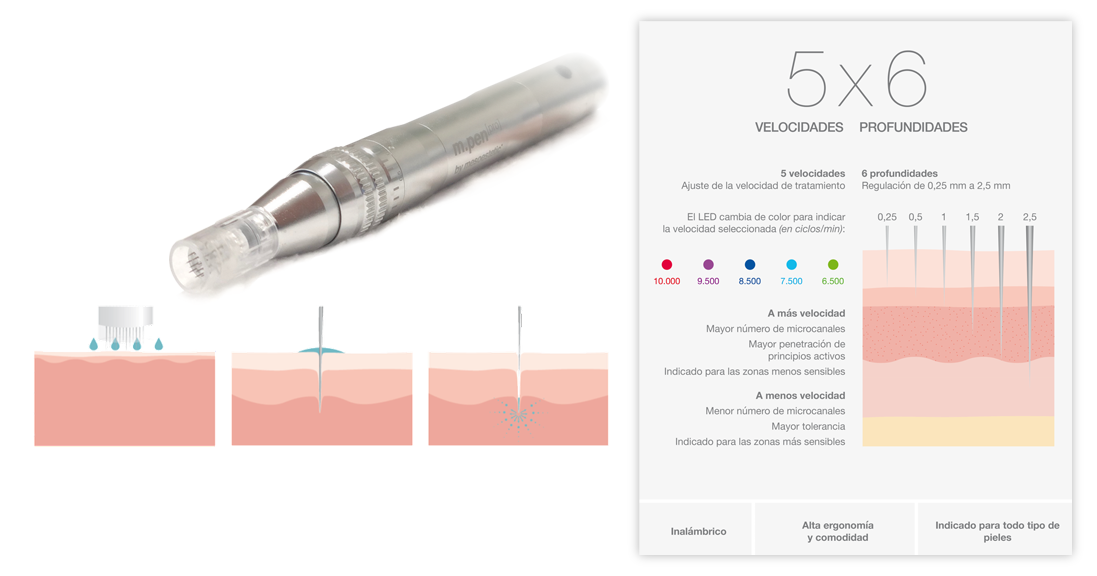 What is microneedling for?
We want to recover small face, neck and neckline imperfections. It will improve small expression lines, small acne marks, light scars, hyperpigmentations, small stretch marks, etc. But we can also apply it on healthy skin to regenerate the tissue by the microtraumatic effect that the needles have on the dermal surface.
In short, we are performing a minimally invasive antiaging treatment based on the regeneration of our skin, ideal to combine with various medical-aesthetic techniques.
How much time and sessions are?
Each session usually lasts about 45 minutes and in Clínica Áureo we separate them 1 month to give time for the regeneration of collagen that we want to get and that can take about 21 days to complete.
The number of sessions will always depend on the condition of the patient's skin and the lesions we want to correct, but we can expect that in 3 - 4 sessions we will obtain a good result and then we can schedule a maintenance consisting of 2 - 3 sessions a year.
Aftercare?
As a rule, we do not need any kind of specific care because it is a minimally invasive treatment. It is true that we usually recommend a regenerating cream and warn the patient not to perform energetic or frictional manipulations of their skin for a few hours. We also insist a lot on the photoprotection, using SPF50+, warning the patient that this protection must ALWAYS BE USED and not only after a facial treatment.