DENTAL IMPLANTS IN PALMA DE MALLORCA. THE BEST SOLUTION FOR TOOTH LOSS
Currently, dental implants are the best solution for tooth loss and are considered the "gold standard" for the treatment of partially or totally edentulous (toothless) patients. Thanks to them, we can restore aesthetic beauty and function; patients can enjoy a healthy life, without any restrictions to the performance of everyday activities like eating, smiling or talking, with that same level of confidence offered by natural teeth.
Tooth loss causes significant problems and discomfort, and considerably diminishes the quality of life. Therefore, dental implants offer a lasting solution that allows the replacement of removable prostheses for fixed teeth, with almost no discomfort and in a reliable manner.


Benefits of dental implants
1. The first and most significant is that they are fixed prostheses, and that it is not necessary for patients to have them removed from their mouths for hygiene purposes.
2. It improves patients' safety and self-esteem because it eliminates the sensation that their prosthesis can move or come off when speaking.
3. Improves the patient's eating experience. Its firmness allows the patient to chew any type of food without fear of breaking it.
4. Avoid cutting adjacent healthy teeth to place a dental bridge (multi-piece prosthesis). With the implant we only replace the lost tooth without further harming the health of your mouth.
5. Thanks to technical advances, we can say that anyone is suitable for an implant. Gone are the days when the problem of lack of maxillary bone, among others, was an inconvenience.
Nevertheless, today's society has come to realize that treatments must now not only deliver aesthetic and functional excellence, but also simultaneously meet other demands, such as:
• Minimizing treatment times before the placement of the teeth (osseointegration of conventional implant is 3–4 months for the maxilla, 2–3 months for the mandible), up to and including immediate loading (teeth placed at the same time as the implant).
• Reduce the number of procedures in extreme cases, or even preventing bone regeneration surgeries in most cases, increasing the patient's comfort.
Brands of dental implants
There are more than 400 brands of dental implants, and our recommendation is that you inform yourself well of the quality and guarantees of the implant you are going to be placed, because unfortunately, not all of them meet the appropriate health requirements. Our dental clinic services rely on Straumann® titanium implants, widely known as a material used in dental implants due to its excellent physical properties and its biocompatibilityin conjunction with the SLActive® implant surface, they have shown greater predictability of treatment in all kinds of clinical situations, even complex ones, reaching survival and success rates of between 97% and 100%.
Faced with a complex situation, such as the need to use a narrower implant, avoiding bone regeneration techniques, a new titanium-zirconium alloy (TiZr) has been developed specifically for implantology. This new material, known as Roxolid®, has shown excellent resistance to traction, providing confidence in the use of narrow diameter implants, with with excellent clinical results in terms of treatment predictability, while decreasing the times required for bone integration.
Types of dental implants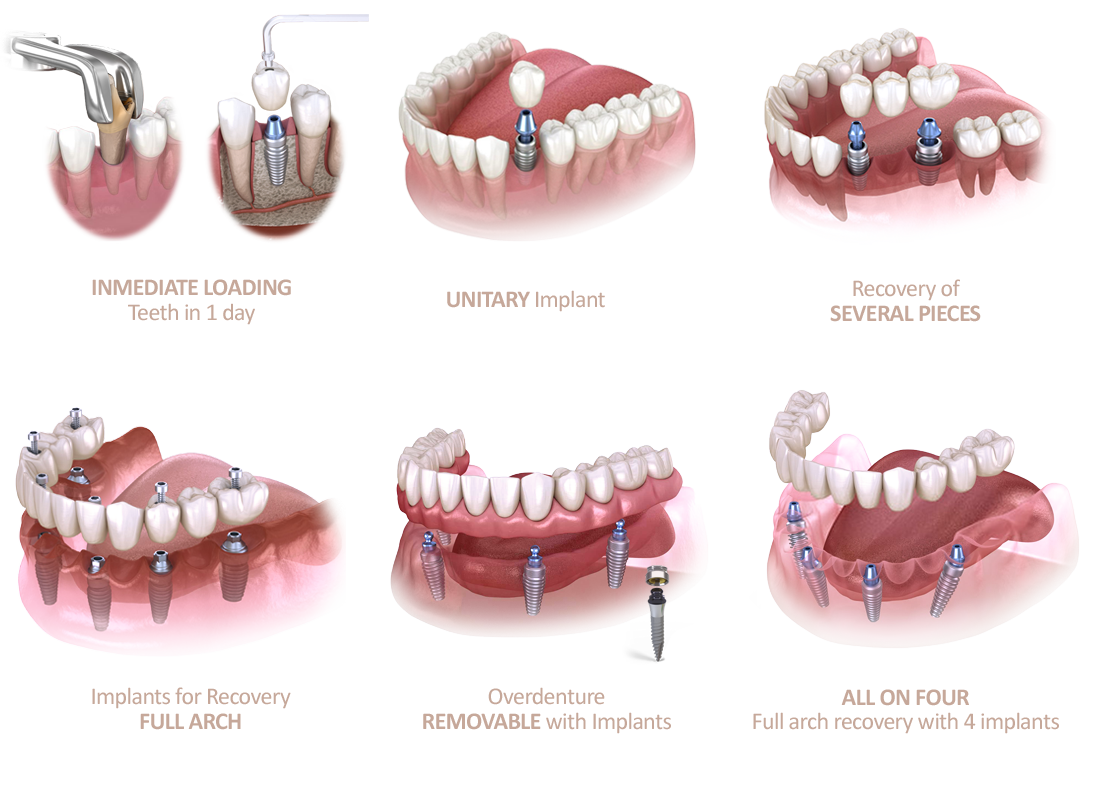 Future prospects for implants
Nowadays, dental professionals and their patients expect not only for implant treatments to be successful, but also for the healing time to be short and predictable.
A shorter healing time allows not only for an earlier loading of the implant, but also increases confidence when reducing the duration of the critical stage of healing.
The aesthetic benefits of the implant treatment are evident, given that the replacement of the teeth is made in a very natural manner. Furthermore, current society is aware that dental aesthetic treatments are no longer considered capricious, but rather a necessity to maintain good health in every aspect.