Among the 8 million tons of plastic that end up in the bottom of the sea every year, 1% corresponds to plastic toothbrushes.
Even though it does not seem like it, 80% of the waste we find in the sea comes from the land, while the other 20% comes from maritime activity. Due to plastic being very resistant and easy to spread, we can find it in all corners of the planet, even over 10,000 meters deep into the sea.
While all this plastic that pollutes our seas is degraded, about 700 species of maritime species become affected. Each year, over one million birds and over 100,000 sea mammals die as a consequence of all this plastic that reaches the sea. According to a study published in Science Advances, when plastic breaks down in marine environments it produces the smell of dimethyl sulfur, the same smell plankton produces when it is decomposed. This smell shows these species where they can find food.

But this is not the only danger; only in the Mediterranean basin, between 21% and 54% of all the microplastic particles in the world can be found. These plastics will slowly release small toxic particles that may be eaten by fish and, at the same time, become part of our food chain.
What can we do?
Besides reusing and reducing plastic consumption. Recycle it correctly! Over 160 million toothbrushes are produced every year just in Spain, which is equivalent to around 2600kg of plastic which will take, on average, 400 years to decompose if they end up in the sea.
In order for this to not happen, WE MUST NOT throw toothbrushes to the yellow container. Plastic toothbrushes must be deposited in recycling facilities or collection points which are specifically aimed for this.
At Áureo Dental, as a dentist clinic and as a socially responsible company, we have added a recycling facility in order to recycle said toothbrushes, so that you can come and recycle yours.
To celebrate the opening of our recycling facility, if you come before 20/12/2019* and bring us your used plastic toothbrushes we will give you an ecological toothbrush of the BAM&BOO brand so that you can contribute to reducing plastic consumption in the world. We leave you the link to this company's website in case you want to subscribe and receive their ecological toothbrushes. You may choose color, hardness and delivery frequency!!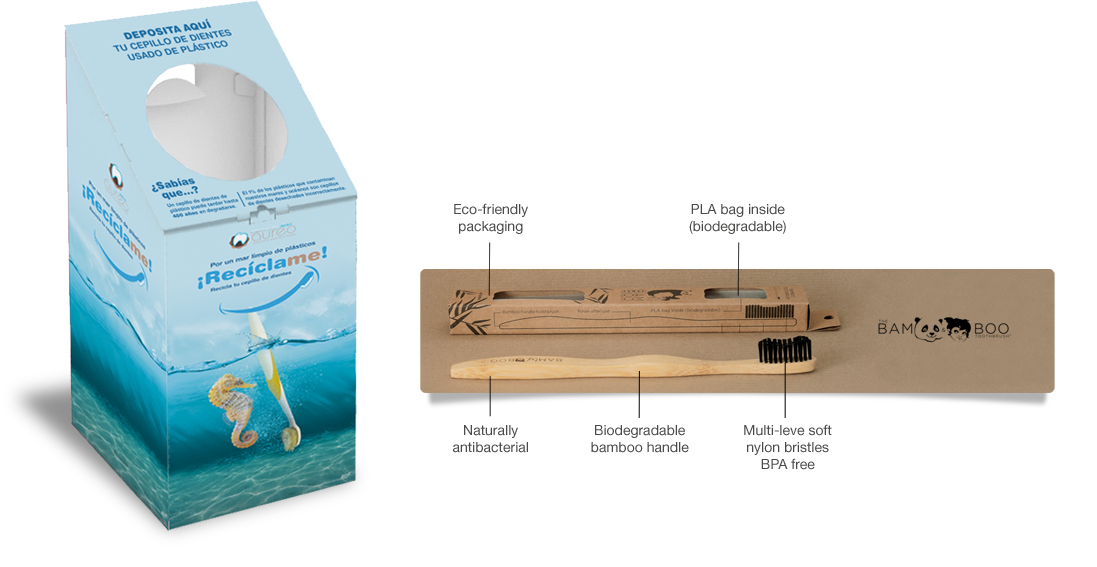 (*) or while stocks last.