Spark invisible aligners are one of the best invisible orthodontic systems currently available.
Spark orthodontics allows you to correct your smile with clear aligners that, like Invisalign, you can remove to eat and brush your teeth. This convenience also makes Spark one of the most popular methods of orthodontics among our adult patients.

How do Spark aligners work?
Spark orthodontics aims to level the teeth, but above all to achieve a firm and adequate bite for good oral health. To do this, it uses a set of transparent aligners that the patient will change approximately every 2 weeks.
During the treatment, the patient will use a specific number of splints that will vary depending on the case, whether it is more or less severe. The success of this system is based on two factors: treatment planning and your commitment as a patient.
Spark orthodontic planning
At Áureo Dental, we consider it essential that the orthodontist who is going to carry out your treatment is a specialist in invisible orthodontics, such as our dentist Silvina Funes, in order to make a good diagnosis and plan the whole treatment before starting.
Once the virtual sample of your mouth has been obtained with an intraoral 3D scanner, thanks to a computer system called Approver and the oral and dental knowledge of our orthodontist, each of the dental movements necessary for perfect occlusion are planned. In this way we know and control the situation of the mouth at all times. Once we have the whole process designed, it is sent online to Ormco, in the United States, which is the company that sells Spark and will make all the splints necessary for your treatment.

Commitment, as a Spark patient
Because Spark, like Invisalign, is a removable orthodontic, it is easy to understand that tooth movement will only occur when you are wearing the braces. In order to meet the clinic's time schedule, it is important that you wear the aligners for a minimum of 22 hours a day.
You should only remove them to eat, brush your teeth and/or on exceptional occasions. This way we will avoid delays in the completion of the orthodontic treatment. It is important to commit to using Spark for the scheduled time.
Think that Spark invisible orthodontics allows you to correct all kinds of bite-related problems in a hygienic, discreet and comfortable way.

What problems can Spark aligners solve?
With Spark orthodontics we solve dental problems related to the levelling, alignment and occlusion of your teeth in a comfortable and discreet way. Some of the malocclusions that we treat with Spark are:
• Crowding
• Diastemas or spaces between teeth
• Crooked teeth
• Open bite
• Crossbite
• Overshot or class III
• Retrognathia or class III
• Overbite

How to care for Spark aligners?
Although aligners are changed approximately every 15 days, it is important to maintain rigorous hygiene during this time and ensure that they are not damaged. This will help prevent tartar build-up and problems related to bad breath.
To keep your splints in good condition, you should clean them every time you take them out of your mouth. To do this, simply wash them with neutral soap, water and a brush. Remember to keep your aligners in their box to avoid losing or breaking them.
At Áureo Dental we recommend that you only drink water if you are wearing aligners, as other drinks can stain or make the splints smell bad.

Advantages of Spark
Spark, along with Invisalign, is one of the preferred systems for adults in need of orthodontics.
A removable orthodontic system
As Spark is a removable orthodontic system, it does not affect your diet or your usual hygiene routines. This makes it one of the most hygienic and comfortable orthodontics on the market. So much so that, occasionally to attend an event or social engagement, you can do without the aligners and then put them back in, without forgetting that you should wear them for a minimum of 22 hours a day.
Its high transparency
Spark splints are made of a durable, highly transparent material that will not dey. Although it is true that the splints are changed every two weeks, it is important that they do not lose their transparency during this time, as this would affect the patient's image.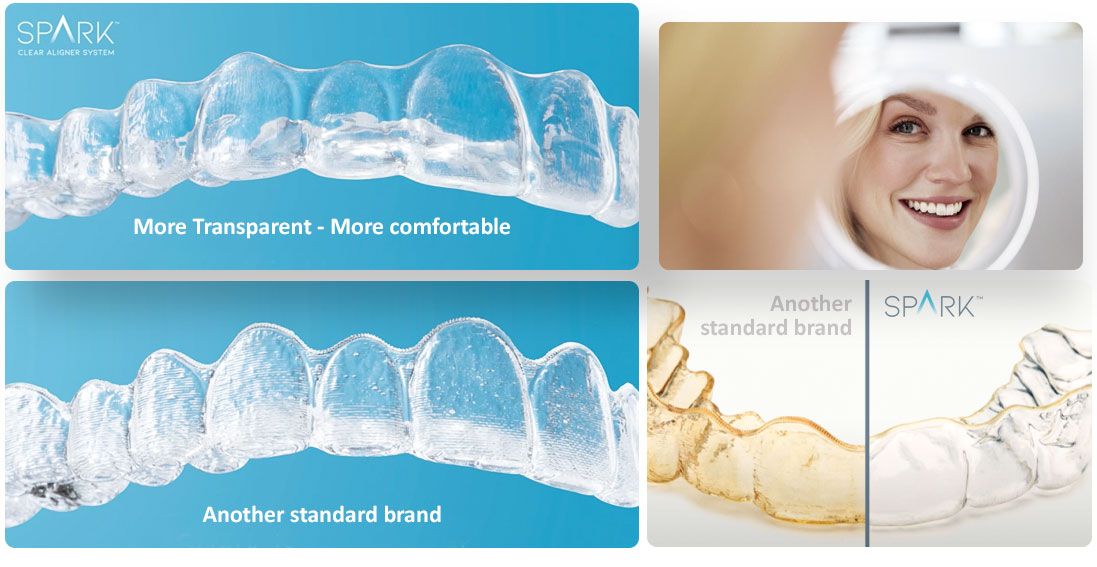 The price of Spark orthodontics, as with Invisalign, will depend on the degree of malocclusion - mild, moderate, severe - and the estimated time to correct it. That is why, before preparing the estimate, it is essential to carry out a prior orthodontic study to calculate the movement of each tooth without compromising its root and to plan the whole process, the splints and the adjustments that you will need to complete the treatment according to the initial design.
Are there other brands of invisible braces?
Transparent orthodontics has been on the rise for some years now and there are several brands that market their own splints, but not all transparent aligners are effective and comply with the adequate follow-up that the patient needs. In our clinic we have opted for the two most recognised brands, Spark and Invisalign, given their effectiveness in correcting severe malocclusions and offering the best results for our patients.

Our orthodontist, Provider Platinum Invisalign, also specialises in Spark invisible orthodontics, so if you want to correct your smile in a comfortable, hygienic and discreet way, we are your clinic!